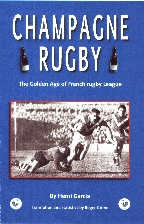 Champagne Rugby by Henri Garcia, translated by Roger Grime.
Originally published in 1961 in France, and published here for the first time in English, this is the story of the famous French tours to Australia and New Zealand in 1951, 1955 and 1960.
Find out about the golden age of French rugby league.
✨ Special Offer ✨
Buy Still Crowing (offer price £12) OR When The Cock Crowed (offer price £10), get Champagne Rugby free!
(UK addresses only)
To take advantage of this offer, orders must be emailed directly to the author at roger@rogergrime.f9.co.uk.
Include your name/address, the delivery name/address (if different) and any dedication you wish the author to write.
The author will acknowledge your request by email, and ask you to send your payment to the roger@rogergrime.f9.co.uk PayPal account.
The author will post the books when payment is received, and send a further acknowledgement email.